For 2021's last Sydney Sounds pack, Milan Ring samples the diverse range of sounds you'll find in a typical Sydney coffee joint.
Milan Ring is a Sydney-based artist/producer whose debut album I'm Feeling Hopeful is fresh on the mind of Australia's rich musical landscape. As a producer who regularly places natural textures against her serene musical backdrops, she was the perfect leader for the last Sydney Sounds sample pack of 2021.
Being local to the Inner West, debatably Sydney's coffee capital, Milan Ring chose to record her sample pack at Marrickville's independent coffee roasters and café, Roastville.
"Today we're going to go to one of my favourite cafés in Marrickville called Roastville to record some interesting sounds. I've been going here for years, they also roast their own coffee so their coffee is… chef's kiss."
"I was sitting in Roastville hearing people chatter, I was hearing all the cutlery in the kitchen, I thought, what better place to do it?"
Like Kat Harley's sample pack recorded in a brewery, Milan Ring's had the added boon of being recorded amongst the production end of the coffee business. Roastville are a rare café that roasts all their own coffee, meaning the building was filled to the brim with noisy machinery, specialised tools, and more totally unconventional items to sample.
Being no stranger to sourcing samples for her own music, Milan chose to enter Roastville with an open mind, following her instincts when it came to choosing what she should record next.
"There's a couple of songs on my latest album I'm Feeling Hopeful which use field recordings. I love using organic, live ambient sounds as textures in songs, I think it adds to the narrative." 
"Unique, fun sounds that you can play around with – that other people haven't used before."
"For me it's about being spontaneous and childlike in a way, just hitting things and having fun, not thinking about any sort of outcome, it's just for the love of creating and experimenting." 
The result is spectacular, a pack that could be broadly used across a number of genres, but still wears its coffee shop origins perfectly. The hiss of steam from a milk frother, the tinkling of teaspoons, and the infinite trickling of beans into a funnel are all a delight to listen to, and honestly, will simply make you want to grab coffee.
Once she had returned to her own studio and fine-tuned her sample pack in Ableton Live, Milan Ring walked out of Roastville with a 24-sample rack, then five unique samples ready to be used as drones, melodic chimes, and more.
Her demo beat also comes as part of the pack, something she hopes will play in its own café one day:
"I think it would be really cool to create something that a café would play, some sort of cruisy, loungy, café, chill, but energetic enough music. So chill but energetic… like a coffee."
"I hope whoever downloads the sample pack finds a bunch of unique, interesting sounds and textures that inspire them and invigorate some creativity and playfulness, and them going in a different direction than they normally go."
Download Milan Ring's Sydney Sounds sample pack below.
DOWNLOAD SYDNEY SOUNDS – MILAN RING
Milan Ring's new album I'm Feeling Hopeful is available to stream or purchase here.
Tickets for her album tour in April/May 2022 are available here.
For his take on Sydney Sounds, Taka Perry collects a suite of samples from Maruyu, an eclectic Japanese supermarket in the heart of the city.
Taka Perry is a multi-platinum producer with credits alongside Ruel, Denzel Curry, and so many more under his belt. It was no surprise that when he lent his ear, enthusiasm, and creativity to Sydney Sounds, that he came up with something truly special.
"When Happy Mag reached out to me about Sydney Sounds I was super stoked. I've followed the series, seen a bunch of the other ones that have been done in the past. Immediately I started thinking; what can I do that is true to me, and something that is going to yield some interesting sounds?" 
"The Japanese supermarket naturally popped into my head, and I knew I had to go there and see what I can get."
The supermarket in question was Maruyu, a spot in the Sydney CBD that stocks a number of hard to find or "staple" products from Japan.
"[Maruyu] is one of the few Japanese-centred supermarkets in Sydney, and as a half-Japanese person myself, and having spent a lot of time there growing up, there's a lot of foods and sauces and different things that are very reminiscent of my upbringing."
If you're scouting locations for a sample pack, a supermarket is as diverse a location as you could hope for. Like Mookhi's Sydney Sounds pack in Reverse Garbage, Maruyu's shelves were lined with every kind of packaging or material imaginable, each waiting to unlock a sound unique to itself.
Like a kid in a candy store, Taka Perry spent his time in Maruyu listening to as many of these products and surfaces as he could. Be it the bass-y drone of a freezer, the ding of a service bell, or the dull, kick-like thump of cardboard boxes, he was searching for the unconventional.
"I don't want to just get foley of keys shaking or footsteps. For me as a sound designer and a producer, they're not the most interesting sounds – you can capture that anywhere. I want to get things that I can turn into playable instruments and expressive instruments."
"Half of that is finding really cool tonal sounds inside the supermarket… the other half is manipulating that sample in Ableton Live and turning that sound into an expressive instrument." 
True to his mission, Taka Perry not only created a 16-sample drum rack from his field recordings, but created five playable Ableton instruments unique to his Sydney Sounds sample pack.
"One of my favourite things to do is build my own devices and processing chains and instruments within Ableton. Whenever I use instruments that I've created myself, it gives me a sound and a workflow that is totally unique to me." 
"I'm hoping that people using my sample pack will use it as a cool source of inspiration; less filler sounds and more sounds that they can use straight away, put them straight into their productions, and really use them in a musical context."
The instruments in question are a delayed service bell, a bulky freezer drone, a gorgeous chime gleaned from a glass bottle, plus an arpeggiator and lead synth, both made from the sound of a barcode scanning.
Download Taka Perry's Sydney Sounds sample pack below.
DOWNLOAD SYDNEY SOUNDS – TAKA PERRY
Special thanks to Doctor V's Karma Karma and Maruyu Japanese Supermarket for being a part of Sydney Sounds.
Listen to the sounds of one of Sydney's wackiest, most wonderful suburbs as Moss takes a microphone to the streets of Newtown.
Moss is an artist who only recently moved to Sydney, meaning he's spent the lion's share of his time here in lockdown. But every setback is just another opportunity for a creative solution, and Moss isn't the kind of producer to shy away from a challenge.
His experience of Sydney has been reduced to a microcosm of the city; his home, his street, and the suburb of Newtown. So when we asked him to put together a Sydney Sounds sample pack, he worked with what he knew.
"I'm going to be recording a bunch of sounds from around the Newtown area and creating a song out of just my street." 
Despite the limitations, the streets of Newtown proved to be a perfect sonic palette for Moss to make his own. From the roar of a motorbike to the trill of a crossing indicator (which Billie Eilish famously sampled in bad guy), the area known for its bustling, colourful way of life translates beautifully into a sample pack.
"Newtown's such a cool area, there's a lot of different sounds. King Street has so many to choose from alone; there's the metal from the gates of all the shopfronts, smashed glass, heaps and heaps of bins for kick drums and stuff like that… so I'm going to be experimenting with everything I can get my hands on." 
Moss has been on the music industry's mind ever since he claimed first place in triple j Unearthed's DIY Supergroup competition, for which he created the winning track SABRE TEETH with Genesis Owusu.
Bass-heavy design and a love for deep manipulation drive the core of Moss's sound, something you can absolutely see in action amidst his Sydney Sounds pack. His demo beat says it all – you may still be able to hear the street here, but it's underneath a bedrock of hard-hitting, sampled percussion that's been through the FX ringer.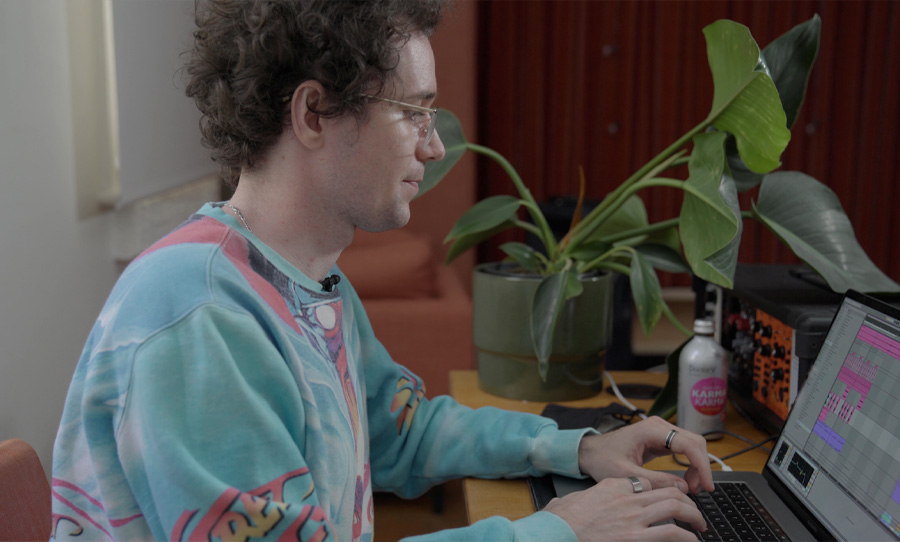 "A lot of the plugins and a lot of the effects I use in Ableton are based around manipulating and basically ruining sounds, so I'm going to be experimenting with everything we've recorded today and seeing what I can make out of it." 
"It's basically recording a bunch of stuff around Newtown, then absolutely trashing it into a really cool track." 
Those opening up Moss's Sydney Sounds sample pack will find a 16-sample drum rack, another full rack of melodic samples, the demo beat in full, plus a few instruments of Moss's own design.
Download his Sydney Sounds sample pack below.
The newest single from Moss, SPEED DIAL featuring BRIA, is out now. Stream or purchase the track here.
Special thanks to Doctor V's Karma Karma for being a part of Sydney Sounds.
Second to Made In Paris' love of music is her love for exercise. Both are essential to her workflow as a creative, which made a gym the perfect place for her to record a sample pack.
A name you'd recognise from festivals such as Pitch, Beyond the Valley, and Splendour in the Grass is Made In Paris, one of Australia's finest techno DJs.
But when she's not producing, playing shows, or delivering mixes to radio stations around the world, Paris spends a solid portion of her day-to-day life breaking a sweat in the gym. Every creative has their own way of finding their zero – be it meditation, a special place to hang out, or simply thrashing about on stage – and for Paris, it's exercise.
"Being a creative, we have so much emotion. I feel like I always need exercise in my life – exercise is just something that gets you completely out of your head and gets you fully present. I find that's what music does for me too, so it's pretty exciting that we get to combine those today." 
When asked to produce her very own Sydney Sounds sample pack, Paris knew exactly where to go. New Life Health Club in Caringbah is decked out with all the equipment she'd need to record a menagerie of interesting sounds, plus it's located right next to an oval – perfect for grabbing some lengthier outdoor samples.
"I tend to produce electronic sounds between deep house and techno, so going into this I'm hoping to get some cool samples that are really gonna resonate in that sort of realm." 
Not to mention, there's a natural link between the gym and electronic music. Fitness junkies everywhere blast house and techno through their headphones to help get a pump on, and the rhythmic, perpetual nature of dance music is perfect for repetitive exercise such as weightlifting, running, and more.
"Some of the sounds I feel like I'm going to capture today are going to be a lot of metal, clanky sounds, some of the weights banging against each other or putting them onto other bits of equipment, using the treadmills, ramping those up, maybe a couple of those beepy sounds… even running on the treadmill could be a beat in itself." 
Once Paris had procured her recordings from the gym and the great outdoors, she returned to her home studio, booted up Ableton, and began building the pack. Running the raw sounds through her choice tools, she narrowed down the pack into a set of samples that will be perfect for anyone producing their own beats – not just artists who align with the Made In Paris sound.
"What I come up with will tend to be more on the dark side of electronic, being that there's a lot of machinery. There's definitely going to be a lot of elements in there that'll definitely resonate well in a dance track." 
"My go-to plugins in Ableton… there's a lot of great stock ones. I really like the echo, you can get so creative with that. I also use a lot of FabFilter third-party plugins." 
Made In Paris has created one of the largest Sydney Sounds sample packs yet. It includes a wide selection of percussive samples sorted into kicks and hits, plus two sampler synths, 12 percussion loops, 7 longer atmospheric samples, and a selection of miscellaneous FX.
"For anyone that downloads this pack, I just want them to get really creative with it, and maybe even come up with something that I haven't done with it. Dive in, enjoy yourself, and see where it takes you." 
Download Made In Paris' Sydney Sounds sample pack below.
DOWNLOAD SYDNEY SOUNDS – MADE IN PARIS
Exordium, the new EP from Made In Paris, is out now. Listen to it here, or purchase the album on limited edition vinyl here.
Embracing her newfound love for skateboarding, Montaigne rambled down to Maroubra Beach's iconic skate park to record her Sydney Sounds sample pack.
Montaigne is an ARIA-winning songwriter who will shortly represent Australia at the 2021 Eurovision Song Contest in Rotterdam. Her music harnesses elements of baroque and hyperpop alike, a thrilling tapestry of wild sounds held together by Montaigne's incredible vocals.
For her Sydney Sounds sample pack, Montaigne embraced her newfound love for skating. Heading to the iconic Maroubra Beach skate park, she sliced together a collection of samples including the thwacks and clangs of boards hitting metal or concrete, a skateboarder nailing a grind, the panicked scream of someone stacking it, and more.
"I chose a skate park because very recently I started getting into skating because of Tony Hawk's Pro Skater 1 + 2 remastered on the PlayStation. After a few plays of it I was like, "skateboarding is really cool!"" 
"I was really devoted to going to the skate park really regularly, and then Eurovision started, so lots has been happening… so that's why I chose a skate park."
Whether you're a skater yourself or a casual observer, it doesn't take a trained ear to know that the sonic qualities of skating are totally unique. If someone played you the noise a board makes as it strikes concrete or rolls down a ramp in a vacuum, you'd be able to pick it at once.
And despite how archetypal those sounds are, there's a lot of variation to be found.
"…the many things you can do with the board, with all the surfaces of a skate park. That was exciting to me, especially being into hyperpop music at the moment, a lot of the sounds are brash and loud and intense… and rude." 
"I thought skateboard sounds would fulfil that."
"I think a lot of [the sounds] will be quite percussive probably, which is exciting because beats form a huge amount of production in hyperpop. Minimal layers but maximum effect." 
"Some of the sounds I'm hoping to get are your standard skateboard rolling along sound, skateboard grinding on a rail… I myself will not be doing that grind." 
Though many of the sounds were as obtuse as Montaigne hoped, that didn't stop her from taking them back to her home studio for a bit of processing. Using Ableton as her DAW of choice, she began to create what would become a thumping techno track for her sample pack's demo beat.
With a heavy use of iZotope's Trash 2 distortion plugin, the skate park field recordings became a suite of thudding kicks, harsh snare sounds, and other brash percussive elements.
"I don't think I operate with any intentionality, the intention starts to unfold as the thing takes shape." 
Montaigne's Sydney Sounds sample pack contains a conventional drum rack as well as a selection of other samples she recorded and processed during the day.
Download Montaigne's Sydney Sounds sample pack below.
Ever wondered what beer sounds like? Watch as Sydney musician Kat Harley tours The Grifter Brewing Company to record the sounds of tinnies opening, taps pumping, and schooners clinking.
Kat Harley is a Sydney-based musician who's played in more bands than you can count on all four limbs. Currently repping The Laurels, Prudence, Gravel Pit, Lorelei, No Cake, and Warehouse Preservation Society, it's a miracle she even found time to record a Sydney Sounds sample pack.
Apart from music, a great love of Kat's is beer – and who can blame her? Sydney is a city ripe for the picking when it comes to brewery culture, with exciting new joints opening every other weekend. Not to mention the brewing process is a goldmine for interesting sounds.
"When Happy first asked me to do this I guess I thought about something that represents me and the things that I'm into, and I most definitely love beer. Breweries in particular are something that are so very Sydney, especially in the Inner West." 
"[I'm] trying to come up with a pack that is the complete package of all the different sounds that you need to make a track. It should be both beautiful sonically and visually."  
The Grifter Brewing Co. was where it went down, a huge, sun-drenched Marrickville brewery where everything is made on-site. They were kind enough to let Kat and the crew be privy to their brewing process, letting her capture what goes on "before a beer gets to you".
In her Sydney Sounds sample pack, Kat includes a number of obvious sounds – glasses clinking together, tinnies cracking open, production lines rolling, and the sloshing of taps to name a few – as well as a few samples that'll be harder to pick.
"I hope that I can get a bit creative with it, let the space speak to me and tell me what to do."
Some of these choices include samples with big natural reverbs gathered from placing a mic inside a brewing keg, blowing on the top of a bottle for a melodic woodwind-esque sound, and more.
After a few hours at the Grifter (not to mention a cheeky beer or two), Kat returned to her inner west warehouse space to build the pack. Booting up Ableton Live, she packaged the lot into a session that includes all the percussive samples in a drum rack, some MIDI-ready melodic samples, and a demo beat to kick off your creative brain.
"I've tried using Pro Tools and Logic before, and they have their good sides about them, but Ableton's just the one that makes sense for my brain. It's the layout of it, but also the way that you can manipulate sounds I really enjoy. Stretching out sounds, warping things and pitch-shifting them – it's what I'm about." 
The pack is now yours for the taking – both Kat and Happy Mag can't wait to see what you make of it.
"I really hope that someone might download this pack and find some sound in there that they didn't think they'd ever put in a song." 
Download Kat Harley's Sydney Sounds sample pack below.
Jackpot! Matt "xiro" Fioravanti takes the helm of the latest Sydney Sounds sample pack, plundering iconic arcade Timezone for retro noises.
Matt "xiro" Fioravanti is a producer known for his work with Kwame, Phil Fresh, and Tasman Keith. He regularly accompanies Kwame as a live sound engineer, a gig that's flown him all over Australia, from Splendour in the Grass to BIGSOUND.
But when he was tasked with putting together a Sydney Sounds sample pack, he looked far closer to home. Timezone is Sydney's iconic arcade chain, originally established in 1978, and a key part of many of our childhoods.
"When I think of Timezone I think of a cacophony of sounds, like lots of things happening at once. A sensory overload – it's like acid for children." 
"[Timezone] just means a lot to me. Growing up as a kid in western Sydney you can't go to a beach or anything like that, so you go to a shopping centre and spend all your coins at a Timezone. I can just remember the sounds and good times had there." 
There's no way to sugar coat it, arcades are an absolute gold mine for samples. 8-bit trills, inviting little melodies, and mechanical thunks assault the ears as soon as you step inside.
Matt's Sydney Sounds pack takes these noises – nostalgic as they are – and isolates them, building them into several drum racks based on their individual character.
"People don't even notice the hitting of buttons, or the pressing of pedals, or changing gears on a Daytona machine… that all makes noise and those noises can be really cool, I'm really looking forward to explore all the sounds that happen that you don't even notice when you play."
It wasn't quite all fun and games, though. Recording in an environment as full-on a Timezone comes with its own challenges.
"I think mic choice becomes super important. I want to try and use mostly a shotgun mic which has a super narrow polar pattern so I can really focus in on sounds."
Once the day's recording had been completed, Matt booted Ableton to package the lot. The samples are mostly percussive, with a few longer one-shots for flavour. No matter what genre of music you're making, you're likely to find a use for these, but anyone creating retro or 8-bit tunes will find Matt's Sydney Sounds sample pack especially useful.
As with every Sydney Sounds pack, both Matt and Happy Mag are excited to see where you take it.
"I want to try and provide some clean sounds just for other people to do their own thing." 
Download Matt's Sydney Sounds sample pack below – included are nearly 100 samples separated into kicks, snares, hats, miscellaneous percussion, and one-shots, a two-and-a-half minute ambient stereo recording, and a demo beat.
"Samples are currency, they're gold": watch Mookhi plunge the depths of Reverse Garbage for her Sydney Sounds sample pack.
Olympia Henshaw goes by the producer name Mookhi, "or Olympia, depending on how I'm feeling." She's been making tunes in Sydney for years now, an intricate, cerebral kind of electronic music that heavily employs sampling.
When she took the reins on another Sydney Sounds sample pack, she knew exactly where to go.
"To be able to marry Reverse Garbage where it's all about reusing, repurposing, recycling, with sampling… I think it was the perfect relationship." 
"When Happy Mag approached me and asked for me to be a part of this I was so stoked, because this is essentially what I love doing. I love collecting sounds and samples, and I love using them in my production." 
Reverse Garbage is a Sydney institution. Since 1974 they've been saving materials destined for landfill, finding new homes for all the wacky, interesting bits and bobs most people throw away without thinking twice about.
It's a beautiful mess of plastics, discarded educational models, crafting materials, and about a billion other random objects. Some of them, you won't even be able to place.
"My aim today is to get a variety of the most absurd or bizarre samples that people will definitely not be able to pinpoint the origin."
In other words, Reverse Garbage is the perfect place to collect a bunch of samples. Every piece of metal, every ceramic bowl, every item of glassware has a timbre that's waiting to be teased out. With a whole range of sticks and poles to bonk things with, there's a practically endless supply of sounds to be found.
"I would say the items are quotidian, so they're everyday items but they're en masse. You could spend hours there, it's like a black hole. Bottle caps, some weird models or manikins, door knobs, buttons, test tubes… definitely weird bits of plastic."
Sampling at its core is about giving sounds a second life. You're transforming them, processing them, warping them until they fit a track you've already conceived – or in some cases, a sample can be so utterly unique that it's a point of inspiration in itself.
That's exactly what Reverse Garbage does, but for objects. These things, like the sounds they make, are there to be rediscovered and reimagined by a new owner. What can a sheet of bendable metal be in the hands of the right person? How will those buttons look when sewn into a new garment?
"As a kid I really loved the whole concept of it. Being resourceful, recycling, and finding new meaning and purpose to items that would otherwise be completely discarded or put into landfill." 
Complete with multiple drum racks, a demo beat, and a ton of sounds, Mookhi's Sydney Sounds sample pack is yours to experiment with. Download it below, and give these sounds a new home.
DOWNLOAD SYDNEY SOUNDS – MOOKHI
Mookhi's latest single Play Games is out now. Stay up to date via her Facebook, Instagram, Bandcamp, Soundcloud, and Spotify pages.
"My music project revolves around pretty industrial-sounding beats, it makes sense that my local train line with the noisy freight trains is perfect for that." 
Lupa J, real name Imogen Jones, has been producing music since the age of 15. Now 21 years old with their third album on the way, Lupa J has carved out a reputation for making dark and intricate pop, consistently being name-dropped as an artist to watch by a score of Australia's leading tastemakers.
They're also totally independent; managing, producing, and releasing their music themselves – often creating their own album artwork too.
"I am a solo artist, and I produce all of my music and currently perform totally solo. I really need to be involved in every element of creating the music because I think the production element is what's most special to me, it's really where I can express myself completely."
When approached to create a Sydney Sounds sample pack, Imogen's mind went straight to their childhood home in Asquith. Surrounded by nature and industry in equal parts, it captures the dichotomy many love Sydney for. One moment you're walking through a serene national park, the next you're witnessing the passing-by of a Centrelink train or watching a commercial airliner fly overhead.
"The sounds I'm really hoping to record today would be an industrial freight train," Imogen shared.
"They're super long and have heaps of carriages that are all kinds of sizes and materials, and sound different as they go by. They go forever so you could probably get a whole drum rack out of one – if you're lucky." 
"There'll be a bunch of metal-y, clunk sounds that I can use for snares or hi-hats, and then some thudding noises you could make into a kick drum, especially by adding some distortion and compression."
Once the day's field recordings had been completed, Imogen sat down to package the sounds for Ableton Live. "I'll probably cut them up heaps and run them through a lot of different effects," they explained.
The resulting Sydney Sounds sample pack is a boon for any producer who wants to add a touch of iron to their projects. Thundering 100-tonne trains, the metallic trills of telephone boxes and vending machines, and the beep of Opal card readers are all ripe for the picking.
The Sydney Sounds pack is totally free, coming with full recordings of all samples, a 16-instrument drum rack, and a demo beat crafted by Lupa J. Download the pack for yourself below.
DOWNLOAD SYDNEY SOUNDS – LUPA J
Lupa J's new album To Breathe Underwater is out now. Stay up to date via their Facebook, Instagram, Bandcamp, Soundcloud, and Spotify pages.