Dom Pavic, a seasoned musician with a penchant for heartfelt storytelling, shares insights on his latest release.
Singer-songwriter Dom Pavic is fresh off the release of "Why Does It Feel So Real?" a follows up to his debut album, "Early in the Morning, Late at Night," that presents a shimmering and wistful exploration of love and lust.
Drawing on influences from 70s rock, folk, and country, Pavic navigates the timeless theme with heartfelt sincerity.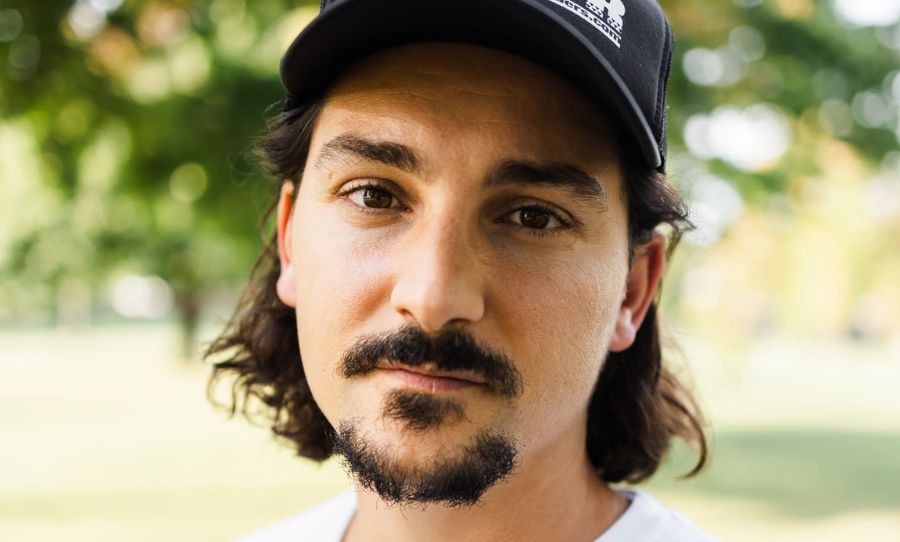 Hailing from Burlington, Ontario, Canada,  we get into it with Pavic, as he reflects on his hometown's influence, from the vibrant punk shows at The Music Centre to the legendary Red Rooster venue.
With three upcoming gigs, including dates at Old Flame Brewery and The Cork Town, you can catch Pavic live in action (gig info below).
Happy: What are you up to today?
Dom: Hey there! Today is tonight right now…I just finished making a wood beam threshold in my place and am watching fight club for the first time; eating chicken. 
Happy:Tell us about where you are from? What's the scene like in your neck of the woods?
I am from Burlington Ontario Canada. Currently leaves are all painted red orange gold and green it's cold out and typically grey outside. As for the music scene, it's pretty terrible in Burlington unless you're into pub performances, however Hamilton is down the road from us and that's the place for original live music . 
Happy:Describe an average day?
Dom: Average day in the life as of late has been pretty uneventful… I wake up, have  coffee, followed by a couple more , do some stretches, and putt around town filling my day with chores. I had a terrible accident at work in July and Damn well nearly cut my index finger off!! I've had a couple surgeries since then and just been on the mend since. 
I do get to run my business from home now which is terrific, collecting Cheques and not having to lift a finger! 
Happy: Can you share some insights into your musical journey and what inspired you to pursue a career in music?
Dom: Probably started when I was about 10 rifling through my uncles cd collection while he was at work, U2, offspring, bob Marley, white zombie, Manson, Elvis, bare naked ladies… that's as many as I can remember listening to back then.
Blink 182 changed my life when I was 14, and after listening to the mark Tom and Travis show that's when I knew I wanted to perform music asap.
Around that time,  my little sister showed me "I want to hold your hand " and I just laughed at how stupid it was, flash forward 3 years and Beatles were and still are my bible when it comes to music. 
Happy:How has your hometown of Burlington, Ontario influenced your musical style and sound?
Dom: Growing up Burlington had an incredible original music scene which has since then dwindled down to hearing somebody play wagon wheel and brown eyed girl every weekend at restaurants and pubs…. About 2002 when I was old enough there was the music centre though and every weekend was " the punk show" just a bunch of us grimey little shithead punks getting wrecked on 40oz'ers watching hardcore, punk, and ska bands play every weekend.
And at one point we had the legendary red rooster which was a terrific live venue, every weekend original bands from all over ( and local ) would perform. It was just a sweet hot sweaty mess, first band up at 1030 the night finished around 230-3 and always such a party! That's the first venue my first group started performing at when I was 18. 
View this post on Instagram
Happy: Are there any particular artists or bands from the 70s that have had a significant influence on your music?
Dom: 70s we're talking; Tom Petty, the band, Velvet Underground, Warren Zevon, McCartney, Lennon, Simon and Garfunkel, Harrison the list goes on. 
Happy: What motivated you to embark on a solo career after years of performing in different groups?
Dom: I never stop writing music. I did at one point stop performing for reasons unknown. It got to a point where I had such a giant catalogue of ideas and songs that I always wanted people to hear but I was doing nothing about it.
Then realized everything I create will turn to dust and stay in the confines of my home if I don't take any action, so I decided to record a full length album one day and just went at it. 
Happy: Could you tell us more about your debut solo album, "Early in the Morning Late at Night"? What can listeners expect from it?
Dom: Early in the morning, late at night. A collection of songs I've written from 2012-2019. The songs on that album music shimmer sounds of 70's mellow rock, folk rock, and rock country that is flared with a contemporary style. 
Happy: It's commendable that you're raising funds for Alternatives for Women through your performances. What led you to support this particular organization?
Dom: Thank you! In the past 4 years I've had a couple run ins with sex trafficking. One time met a young woman who was a victim and actually stumbled upon a house that had about 6-7 young ladies in it that were part of a ring.
I took action as soon as I sussed out what was happening and got in touch with authorities who shortly after took action against it.
After seeing it first hand and then reading about how it is an under the radar epidemic so close to home I figured since I'm already putting my voice out there in front of crowds and new demographics on the regular with performing I might as well have a cause that isn't for my own vanity and donate all my live proceeds to people who can actually benefit from it.
They are a terrific organization that help women get back on their feet who have been in terrible domestic and abusive situations.
If you've ever had a friend getting out of an abusive relationship you've seen how muddy the logistics of it all can get from moving out, to keeping your children safe throughout the whole downfall of it can be.
And they help provide those resources! 
Happy: "Why Does It Feel So Real" is your 13th song release. Is there a story or inspiration behind this particular song that you'd like to share?
Dom: Why does it feel so real started the same way most of my songs start, with a melody. I branched off of the line why does it feel so real?
With an attempt at telling a story about a young man falling in love with a married woman he is having an affair with.
The whole encounter is in vain because she could never leave her family for this kid, and he is infatuated and confused as to why it can never be especially since it feels so real between the two involved. 
Happy: Can you describe your songwriting process? How do you go about crafting your lyrics and melodies?
Dom: The majority of the time I'm not usually in control of my creative  process. Whatever is in charge of creativity in the brain is the thing to credit.
A lot of my songs will start with just a melody that pops into my head out of the blue and I usually work around that.
Or I will just work out something melodic on my guitar by noodling around and then do simple math and build on a small idea with notes that should work with the idea that are in the same family as the key I am writing it in.
As for my lyrics; I always write those at the very end, music is always written first. Sometimes I'll get my missing verses written when I'm in the booth about to record the vocal track for the song. 
I can never force writing and expect a good product. it's kind of the way some aspects of life works, a lot of the time you'll never really find what you're looking for, however In due course; it will find you. 
Happy: Looking ahead, do you have any upcoming projects or live performances that fans can look forward to?
Dom: Moving forward! We have 3 more gigs to wrap up 2023, December 2nd at old flame brewery in uxbridge, December 7th at the cork town in Hamilton, and then a Christmas send off December 22 at the moonshine cafe in Oakville! 
Happy: Lastly, what makes you happy?
Dom: Effortless situations; grabbing a slice of pizza, going for a coffee walk and talk with a close friend, cuddling with my wife in bed every morning.