Big boobs, small boobs, boobs of all shapes and sizes: ThirdLove has identified 9 types of boobs and the best bra for each pair.
Boobs are, undeniably, incredible organs for many reasons – they're erogenous zones, they're responsible for vital functions like feeding babies, and equally importantly, they're quite a sight for sore eyes.
What are boobs exactly? The Cleveland Clinic says, "breasts are part of the female and male sexual anatomy. For females, breasts are both functional (for breastfeeding) and sexual (bringing pleasure). Male breasts don't have a function. The visible parts of breast anatomy include the nipples and areolae."

Obviously, you don't need us to tell you that boobs are great. That's already universal knowledge. But with so many different kinds of boobs out there – big boobs and small boobs and fake boobs and bouncing boobs and anime boobs and big natural boobs – it's important to remember that there are no such things as perfect boobs or the best boobs because each pair on a person's body are unique and beautiful in their own way.
Speaking of uniqueness, how many different types of boobs exist in the world? Well, according to lingerie company ThirdLove, there are nine different breast shapes out there, and they've identified the optimal type of bra to support each one. Let's dive into their findings, shall we?
#1 – Asymmetric
When it comes to shape and size, boobs don't always match like identical twins, and that's totally okay. In fact, some level of asymmetry is quite common among boob-havers. According to clinical professor and ob-gyn, Dr Mary Jane Minkin, nobody's breasts are perfect in symmetry, and this is a normal occurrence.
Cosmopolitan say, "usually, the discrepancy in size isn't too drastic that you have to start getting special bras fitted, so trying one with removable padding should do the trick nicely."
Best bra for asymmetric breasts
ThirdLove suggest the plunge bra as the best option for "uneven or different sized breasts." Additionally, they advise you to "explore bras with removable inserts to help even out your natural shape." 
#2 – Athletic

ThirdLove define athletic boobs as "wider, more muscular breasts with less tissue." As declared by Cosmopolitan, "the wider your breasts are, the better suited you are to a wireless bra – but make sure you pick one with a thick band to make sure it stays in place and keeps you supported." 
Best bra for athletic breasts
"Cup gaping tends to be a common issue for Athletic shapes due to the lack of volume up top," explain ThirdLove. To combat this, ThirdLove recommend a variety of t-shirt bras, strapless bras, bralettes and sports bras that will "help lift your breasts comfortably."
#3 – Slender
Slender breasts are characterised as thin boobs, comprising nipples that typically point downward. According to the women's lingerie and shapewear brand, Leonisa, "your breasts may have a slender shape if they are a little longer than they are wide. Slender breast shapes can come in any size, though they are common in small-breasted women."
Cosmopolitan add, "slender breasts tend to be slimmer at the top, fuller at the bottom. Extra evidence for having slender boobs is if they're relatively small in cup size, so wireless bras are a great option for you."
Best bra for slender breasts
Wireless bras are certainly one option for slender boobs, but if you're looking for a little extra lift, ThirdLove recommend you check out its range of plunge bras, or simply a scoop bralette, designed to provide both comfort and flattery for "thin, cone shaped breasts."
#4 – Round
If your breasts look equally full at the bottom and top, then you likely have round boobs. One of the cool things about round boobs is that they're self-supporting, thus eliminating the need for distinctly-structured bras, leaving room for choices that don't consist of extra padding or underwire, should you so please.
Best bra for round breasts
According to ThirdLove, most bra styles flatter the round boob shape well, but you may like to "explore wireless bras for days when you only want light support and balconette styles for when you want an ultra-flattering fit." Their recommendations include seamless and wireless sports bras, lace triangle bralettes, and balconette bras.
#5 – Tear Drop
Tear drop breasts also have a roundness to their shape, but they are not as full at the top as they are at the bottom, and if what Cosmopolitan say is true, then "these are the most easygoing type of breast shape, suiting most bras."
Best bra for tear drop breasts
A diverse range of bra styles are suitable for tear drop breasts, according to ThirdLove. However, if you want to create the illusion of more fullness at the top, opt for a balconette style bra.
#6 – East West
If your nipples point out to the sides in opposite directions, then chances are you have an east west breast shape. This type of shape "features a separation of the breasts in the cleavage area," say Leonisa. The company add, "you might identify with this one if you see that your nipples face outwards towards your arms instead of straight ahead."
Best bra for east west breasts
For "splayed breasts that point outward," ThirdLove recommend trying "bras that are full coverage and help bring your breasts up and together." These include plunge bras, triangle bralettes, unlined scoop bras, and their 24/7 perfect coverage bra.
#7 – Bell
Bell shaped breasts can appear similar to slender breasts, but are typically larger. This is due to the fact that they are fuller at the bottom and slimmer up top. If you're brassiere shopping for bell shapes, Cosmo say you should "think support, and try to stay away from those troublesome balconettes which could have you spilling out from all angles."
Best bra for bell shaped breasts
ThirdLove advise those with bell shaped breasts to "explore bras with full coverage which feature wider, memory foam straps that provide support, but never dig in." The undergarments best recommended for this purpose include ThirdLove's 24/7 perfect coverage bra, cotton plunge bra, unlined scoop bra and v-neck bralette.
#8 – Side Set
Breasts that have a wide space between them tend to fall into the category of side set breasts. In contrast to east west boobs, side sets often possess a fuller shape. As declared by Cosmopolitan, they appear most flattering and supported in plunge bras, as they pull your titties up and bring them more inward.
Best bra for side set breasts
According to ThirdLove, wide set boobies best suit bras that are designed to naturally raise and bring your breasts closer in proximity to each other. That's why they advise you to try their uplift plunge bra or contour plunge bra. Alternatively, you could give their lace front closure bralette a go.
#9 – Relaxed
ThirdLove define the relaxed shape as "breasts with lax tissue and nipples pointing downward." According to undergarment manufacturer, Triumph, "relaxed shaped breasts have a softer appearance. These breasts can also start to hang as they age. This shape is common in larger busted women who have had children or lost a lot of weight."
Best bra for relaxed breasts
To support relaxed breasts, ThirdLove recommend wearing bras that have a "slightly shorter cup for more fullness at the top." In this case, a balconette, classic t-shirt bra, or bralette should do the trick.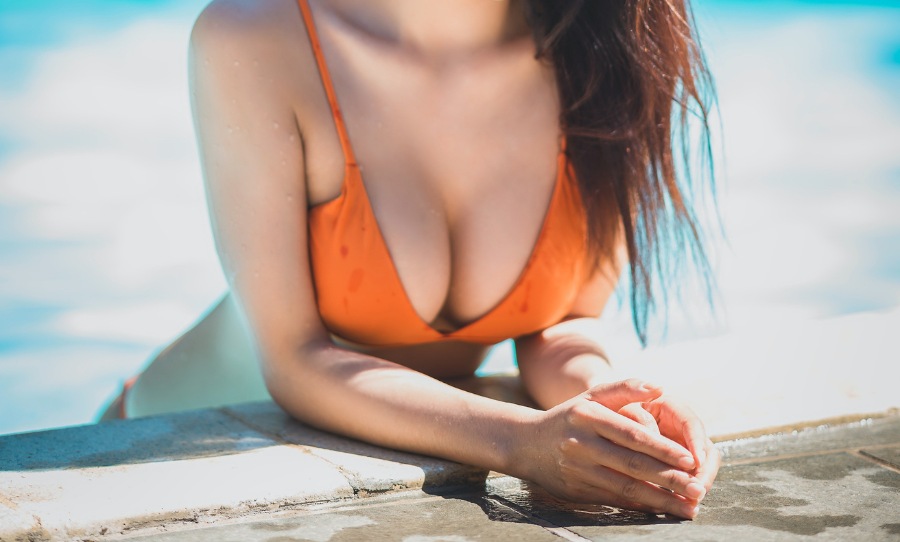 As it turns out, there's a lot more boob diversity than we thought. But one thing all naked boobs have in common is that they're sexy boobs for sure. Unfortunately, things such as boobs porn may generate insecurities about one's own nice boobs or set unrealistic expectations about what classifies as hot boobs on others.
Every day individuals and celebrities alike have faced public scrutiny over their body image, like for example when Billie Eilish boobs were the talk of the town, or when Sydney Sweeney huge boobs comments were all the rage. With all of this impactful critique going on in society, it's essential to remember boobs are to be embraced, not to be judged.
As aptly put by Knicker Blogger, "with a body confidence revolution taking over the world, it's important to remember that our boobs are a huge part of our bodies as well, from the way they look to the way they feel. A lot of women are self-conscious about their boobs and end up comparing them to other women's. Our boobs are there, not only to complement our bodies, but also to produce milk following pregnancy. They are unique, beautiful and provide a purpose in life."